Port of Tampa
Port of Tampa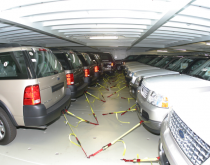 North American vehicle production is on the rise amid strong demand for vehicles in the NAFTA countries and foreign markets.
Billions of dollars could be handed out to Miami, Port Everglades and Jacksonville in the next five years in an aggressive bid by Florida to capture a greater share of regional container cargo.
Gulf ports are looking to intermodal rail in an effort to extend their reach farther inland for containerized cargo.
Officials from the Tampa Port Authority and terminal operator Ports America, as well as regional exporters and importers, celebrated the 10-year anniversary of Zim Integrated Shipping Services' calls at the Port of Tampa.