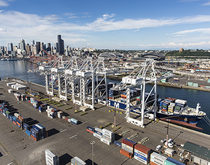 The largest container terminal in the Northwest Seaport Alliance has stated its position on SOLAS VGM generation.

U.S East Coast ports took eight spots on a list of top 10 fastest-growing major U.S.

After bleeding market share earlier this year due to congestion and labor problems, the Seattle-Tacoma gateway appears to be leveling off in the competitive Pacific Northwest region. Port Metro Vancouver, Canada, is likewise leveling off, although Prince Rupert continues to register impressive double-digit gains compared to last year.