The Port of Seattle is the busiest container port in the U.S. Pacific Northwest. The port in 2015 formed the Northwest Seaport Alliance with the Port of Tacoma so that the two may cooperate on marketing efforts and their future development to better spend limited funds needed to modernize their container terminals so they can handle mega-ships plying the trans-Pacific trades.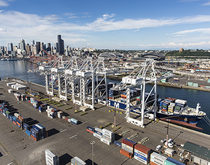 The largest container terminal in the Northwest Seaport Alliance has stated its position on SOLAS VGM generation.

U.S East Coast ports took eight spots on a list of top 10 fastest-growing major U.S.

After bleeding market share earlier this year due to congestion and labor problems, the Seattle-Tacoma gateway appears to be leveling off in the competitive Pacific Northwest region. Port Metro Vancouver, Canada, is likewise leveling off, although Prince Rupert continues to register impressive double-digit gains compared to last year.