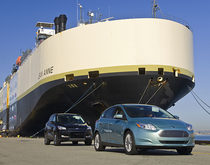 Pasha Automotive Services has launched a car-carrier service to the Port of San Francisco.

A California Senate committee Wednesday approved legislation that will provide a partial tax exemption for terminal operators that purchase zero- or near-zero-emission cargo-handling equipment, expediting the progress California's ports are making toward becoming the greenest in the world without significantly increasing the cost of shipping through the ports.

International Longshore and Warehouse Union Local 10 in the Bay area will use its monthly stop-work meeting on Friday to idle the ports of Oakland and San Francisco to protest recent police killings of African-Americans.

Shippers could see truck pricing 'skyrocket' as they scramble to move containers inland once the labor situation at U.S. West Coast ports is resolved, BB&T Capital Markets said.