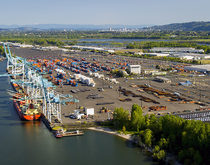 The Port of Portland on Monday took its first step toward restoring container service.

West Coast ports in September suffered a drop in container volume as well as import market share, but it is too early to determine if this is the beginning of a trend or just a one-month anomaly for ports that appeared to be recovering from the loss of business earlier in the year.

The National Labor Relations Board determined that International Longshore and Warehouse Union Locals 8 and 40 in Portland violated federal laws prohibiting secondary boycotts by engaging in work stoppages and slowdowns, and on Wednesday ordered the ILWU to cease and desist from those activities.
Port of Portland Executive Director Bill Wyatt is recuperating in a Portland hospital after a recent motorcycle accident while on vacation in Oregon.