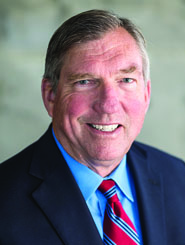 2014 is going to be a big year for our industry: We may see the impact of the P3 alliance and more tonnage, and the Panama Canal expansion will inch closer to completion. In the U.S., there may be action on surface transportation reauthorization, national goods movement policy, and the Water Resource Development Act. On the West Coast, we will be watching the International Longshore and Warehouse Union contract negotiations. There are also megatrends — technology change such as 3D printing and shifts in the manufacturing base — that could accentuate this coming year. So what will be the biggest deal for 2014?
None of the above. The biggest issue for ports, given all that's going on this year and the larger trends, is gateway-level productivity leading to customer value. Part of the equation is terminal productivity and efficiency, which will be critically important to retention of existing business and attracting new business as ports continue to compete for cargo volume.
The JOC has begun trying to measure port productivity, which is fraught with the challenges of apples to some-other-kind-of-fruit comparisons. It may not produce a perfect one-to-one comparison, but it could help establish better and more meaningful metrics than exist today.
But what's the point of having high crane moves per hour if port truckers can't get in and out of terminals easily? What's the point of having a stable union contract in place if you can't get the funding to dredge to the depth needed for the biggest ships? What's the point of having deep water if you don't have the Class I rail connections to handle high volume cargo?
In 2014, ports will need to be more accountable, measurable and productive than ever, while also fitting all of the pieces of the supply chain together to have it run smoothly, reliably and efficiently.
Chris Lytle is Executive Director of the Port of Oakland