Port of New York and New Jersey
The Port of New York and New Jersey is the busiest container port on the East Coast of the United States and is where containerization first began with the sailing of the Ideal X in 1956. Its terminals are located throughout the New York metropolitan area including Brooklyn, New York, and Newark, New Jersey. The largest terminal in the port is operated by Maher Terminals.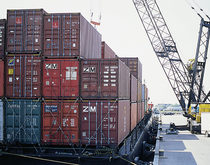 The US Maritime Administration will provide $4.64 million in "marine highway" grants for five existing or proposed container-on-barge services.