Big Impact for NY-NJ Port Industry
JOC Staff |
Feb 28, 2014 4:07PM EST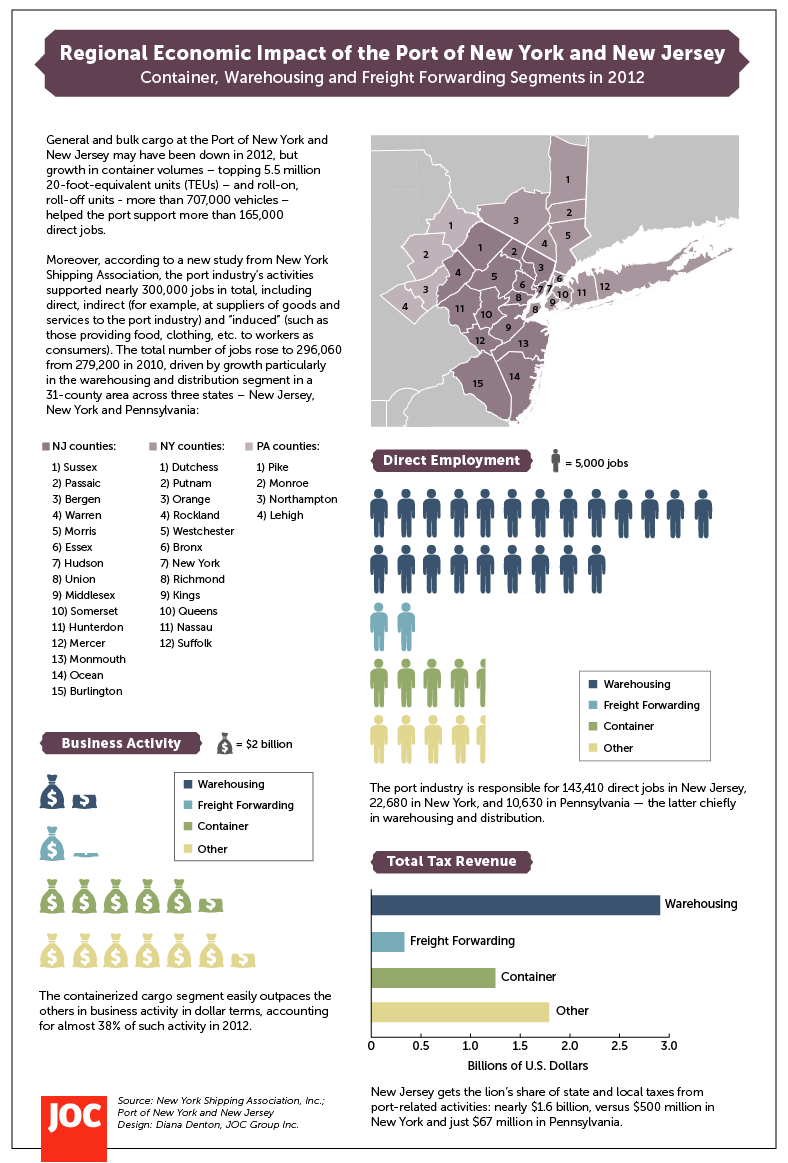 The industry centered on the Port of New York and New Jersey is responsible for hundreds of thousands of jobs and billions in income and tax revenue, according to a study released this week.
In 2012, the port industry supported nearly 300,000 jobs and almost $28.9 billion in business and $18.3 billion in personal income in a 31-county region stretching to southern New Jersey and eastern Pennsylvania, out Long Island and up the Hudson, according to the study commissioned by the New York Shipping Association, Inc., and prepared by A. Strauss-Wieder Inc., of Westfield, N.J. The report addresses the maritime movement of goods and people through the region.
The container-handling sector stood out among ocean cargo segments with a whopping $10.9 billion in business activity, but the growing warehousing segment saw the greatest employment, involving more than 100,000 direct jobs and more than 170,000 total jobs, including direct, indirect (with companies providing services or supplies to the port industry) and "induced" (including those at companies serving port industry workers, including providers of food and clothing purchased with household income tied to the port). Jobs directly associated with port activity rose more than 6 percent over the level seen in 2010, as reported in a previous economic impact analysis. Changes to methodology affected some definitions, so the two studies are not completely comparable.
"The Port of New York and New Jersey supports businesses in one of the largest and wealthiest consumer markets in the world, and serves more than 35 percent of the entire population of our country," said John J. Nardi, NYSA president, in a statement. "The New York Shipping Association commissioned this study to determine how this scale and scope supports the global shipping network, but seeing how every 1 job in our port creates almost 9 additional jobs in the region just emphasizes the industry's impact on regional business and employment."
The JOC's infographic draws on information from the study and from the port to explore the impact of three main segments: container shipping, freight forwarding and warehousing.