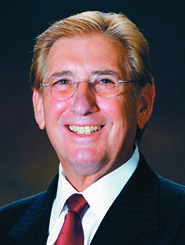 We have continued to realize a slow, but steady recovery in the global economic situation, which has stabilized market demand for commodities and goods and services. If this continues, the port industry could see a period of growth due to improved markets.
Inroads have been made within the past year bringing awareness to the critical need to invest in the nation's maritime infrastructure. President Obama has toured a handful of ports along the East and Gulf coasts, stressing the importance of boosting exports and strengthening port infrastructure critical to our nation's economic competitiveness. The administration seems to understand ports play a central role in the U.S. economy, in part by facilitating global trade and exports — supporting more than 13 million jobs nationwide. Proposed funding in 2014 includes $40 billion in investments to improve existing infrastructure assets. It also appears the federal government could get serious about maintaining and deepening the nation's waterways if the Water Resource Development Act is passed in 2014. Current language mandates 80 percent of the Harbor Maintenance Trust Fund money collected be spent on harbor maintenance — a step in the right direction toward full use.
The elephant in the room industrywide is the ramifications of the P3 Network — the proposed alliance of the world's top three container carriers. Maersk Line, CMA CGM and Mediterranean Shipping Co. account for about 40 percent of the container shipping market. If approved by U.S., Chinese and European regulators, the alliance could go into effect May 2014. It remains to be seen how the non-P3 carriers will react and how they will compete with this alliance.
The P3 Network's proposed schedule allows for increases in vessel speeds, forcing smaller carriers to spend more on fuel and other costs without having the same economies of scale. Many ports could see fewer, but larger ships — making the investment in deeper channels and maritime infrastructure more significant than ever, combined with the impending completion of the expanded Panama Canal in 2015. 
Gary P. LaGrange is the President and CEO of Port of New Orleans