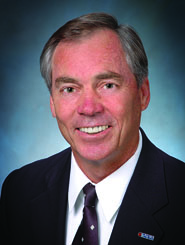 Big ships will continue to dominate the horizon for ports worldwide in 2014 and beyond. The key to a port's competitiveness will be its ability to accommodate the latest generation of large container ships.
The norm just a few years ago was 6,000- to 8,000-TEU ships; now the Port of Long Beach has already welcomed vessels carrying 14,000 TEUs, and even bigger ships are on the way. In 2013, Maersk took delivery on the first 18,000-TEU vessels. Being able to accommodate these giants is requiring multibillion-dollar investments in deeper water, higher bridges, technologically advanced container terminals, bigger gantry cranes, better intermodal rail connections and a vast network of warehouses and distribution centers.
The good news is that the larger container ships operate more cost effectively because fewer trips are necessary to carry the same cargo. Also, the new ships are equipped with the cleanest engines and can be outfitted to plug into shore power while at dock, significantly reducing their diesel emissions. Clean and sustainable operations are increasingly important at global ports, so these big ships are really good news.
Alliances being formed by shipping lines to make the most efficient use of their fleets will also affect port business in 2014. The P3 Network operating alliance of the world's three biggest lines — Maersk, Mediterranean Shipping Co. and CMA CGM — is proposed to launch in the second quarter of 2014, pending international regulatory approval, and amid considerable interest in its impact.
The P3 lines propose cutting their combined fleets from 346 to 255 ships with no loss of capacity, but with considerably lower operating costs. And there have been hints in the trade media that P3 may launch ships with a capacity of 19,200 TEUs for U.S. trade in the near future.
So it's all about being big ship ready.
Al Moro is the Acting Executive Director at Port of Long Beach