Port of Jacksonville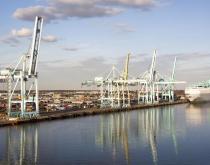 A recently-awarded navigation project will likely further fuel continued Asia volume gains at the Port of Jacksonville, Florida.

Marginal changes in container imports market share show U.S. East Coast ports slowly took business away from their West Coast competition in the first half of 2014.
Billions of dollars could be handed out to Miami, Port Everglades and Jacksonville in the next five years in an aggressive bid by Florida to capture a greater share of regional container cargo.