Port of Jacksonville
Port of Jacksonville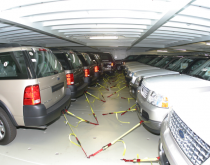 North American vehicle production is on the rise amid strong demand for vehicles in the NAFTA countries and foreign markets.
Galborg USA has upgraded its refrigerated container cargo service from Jacksonville, Fla., to ports in Namibia, South Africa and Mozambique, according to Jacksonville Port Authority.
Florida Gov. Rick Scott and members of the state's cabinet have approved $150 million in bond proceeds to finance projects at Florida ports through the Seaport Investment Program.

Northeast U.S. ports saw their share of container traffic in the second quarter of 2013 dip 1.5 percentage points year-over-year among major ports on the east coast of the U.S. and Canada. Mid-Atlantic and Southeastern U.S. ports, as well as Canadian east coast ports, all picked up a piece of the share during the past year, data from the individual ports indicate.