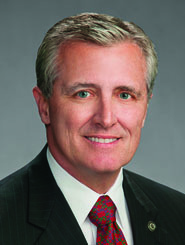 The renewed focus on improving the national freight transportation system in the United States, including ports, is a welcome and necessary development.
The establishment of the National Freight Advisory Committee in early 2013 to make recommendations to bolster the system was a positive step forward. With freight volumes continuing to grow as the economy rebounds, the transportation system will need to be stronger across the board.
That's because we likely are at the nexus of the next great economic expansion in the United States. Growth attracts commerce. Commerce produces freight. Freight produces jobs and a strong tax base.
The heightened need for freight infrastructure investment is in part due to changes in the manufacturing industry. One trend that is under way shows business in the U.S. is beginning to shift more and more to the "Third Coast" — the Gulf Coast — and that is expected to continue in 2014, especially given the shale oil boom.
Most freight that moves through the U.S. does so using more than one form or mode of transportation, so continued improvements will have to be made to airways, highways, pipelines, railroads and waterways.
Already, the Department of Transportation has directed more than $1 billion to projects tied to the movement of freight. Through the TIGER Grant program, more than $350 million has been directed to our port system and more than $650 million to projects that are aimed at bolstering freight rail infrastructure.
The focus on port infrastructure in particular is wise. As Transportation Secretary Anthony Foxx and Vice President Joe Biden noted during a recent trip, ports are crucial to our economy. Biden put it simply: Infrastructure matters. And ports, he said, matter the most.
Leonard Waterworth is Executive Director at Port of Houston Authority