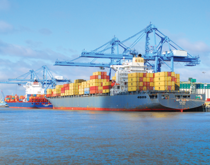 US Gulf ports have gotten a taste of Asian all-water container services and are hungry for more.

U.S. Gulf Coast ports handled 8.2 percent or 2.6 million twenty-foot-equivalent units of the total 31.9 million laden TEUs in the U.S. container trade in 2015.

This spring's arrival of three post-Panamax cranes at the Port of Gulfport, Mississippi, has been upstaged by a shipyard contract that's expected to get the port off the hook for repayment of millions of dollars in hurricane relief funds.