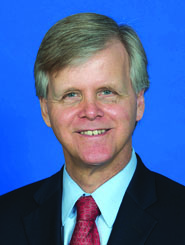 Forward movement of the Water Resource Reform and Development Act, or WRRDA, is a big step for most of us in the seaport industry and for our ocean shipping customers who need deeper water for the newer generations of post-Panamax vessels. It is frustrating, however, that it took seven years for WRRDA to be brought to the table. Critical infrastructure projects have been delayed while construction costs increase and business goes elsewhere. It is an even greater concern that port officials do not have confidence that Congress will keep its promise to enact WRRDA legislation every two years, which would enable seaports and other waterways to plan for the future.
We should not be held captive by the process to the point that we don't have the tools to do our jobs.
WRRDA created a renewed appreciation for our country's seaports and waterways, and gave Congress the opportunity to join forces on a bi-partisan issue that will create jobs and enhance the United States' stature as a global leader in international trade. We need to keep the momentum going throughout 2014 and beyond.
Therefore, the most important change that I see for the maritime industry in 2014 is actually an even greater push for water resource improvements — primarily through funding and legislation — that will further advance infrastructure and related projects to ensure our country retains its leadership role in ocean shipping and global trade.
The ball is already rolling. Several seaports will benefit immediately from WRRDA, while others can advance projects that have been on the books for the last decade. In 2014, seaports need to continue to remind our elected officials of the positive economic benefits that ocean shipping brings to their communities and nationwide, and that it is their responsibility to provide ports with the ability to expand to meet global market demands.
Steven M. Cernak is CEO and Port Director at Port Everglades