Port of Brunswick
Port of Brunswick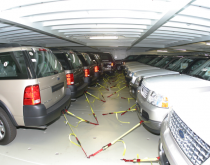 North American vehicle production is on the rise amid strong demand for vehicles in the NAFTA countries and foreign markets.
Like a sparkling Ferrari on a showroom floor, the U.S. Southeast ports are sitting pretty when it comes to import and export automobile traffic growth.

Although its channel depth is supposed to be 38 feet at the harbor entrance, Brunswick, Ga., currently has only 31 feet at low tide due to shoaling and inadequate funding for dredging, constraining shipping at one of the nation's largest auto gateways.