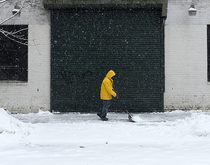 The Port of NY-NJ is opening first thing Wednesday after it took a smaller than expected storm pummeling

Eight ports on the U.S. East Coast made substantial gains in import market share in the first six months of 2015. A booming import market, West Coast diversions tied to the recent labor crisis, and port investments helped East and Gulf Coast ports edge out all but one of their West Coast counterparts.

Under Armour this week began receiving imports through Baltimore in yet another sign of the U.S. East Coast's market share gains following recent West Coast congestion.

Container traffic through the Port of Baltimore in April fell 8.8 percent year-over-year after a record March, Maryland Port Administration statistics show.