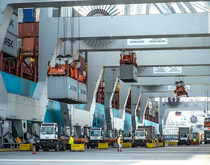 JOC.com examined changes in market share by analyzing data from PIERS, a sister product of JOC.com within IHS.

If you judge the automotive market by the trade volumes handled by mid-Atlantic ports, Americans are buying imported cars at a torrid pace, and so are Arabs. With U.S. automobile sales up 4.5 percent year-over-year to more than 10 million units in the seven months through July, mid-Atlantic ports are enjoying strong imports. New and used-car exports, too, are flourishing.

Eight ports on the U.S. East Coast made substantial gains in import market share in the first six months of 2015. A booming import market, West Coast diversions tied to the recent labor crisis, and port investments helped East and Gulf Coast ports edge out all but one of their West Coast counterparts.

Under Armour this week began receiving imports through Baltimore in yet another sign of the U.S. East Coast's market share gains following recent West Coast congestion.