Massachusetts Port Authority
Massachusetts Port Authority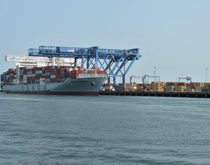 The port of Boston continued a streak of year-over-year volume gains in November, handling 16.5 percent more cargo last month.

The Port of Boston's volumes are up 10.5 percent year-to-date, thanks to a unique incentive program for union workers and some extra vessel calls.
New calls from container carriers and volumes from the tail end of the 2014 peak season increased Boston's September throughput by nearly 12 percent.

Sunny weather and the beginning of the busy shipping season aren't the only reasons the Port of Boston is excited about the month of August.