West Coast Marine Terminal Operators Agreement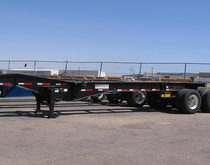 LA-LB terminal operators decide to individually negotiate hosting arrangements with chassis-leasing companies.

Pushback against terminal operators' proposed chassis gate fee in Los Angeles-Long Beach intensifies.
Terminal operators and equipment managers on the West Coast intend to form a discussion agreement that will allow them to work with industry stakeholders such as shipping lines, motor carriers and railroads to reduce congestion and improve cargo velocity.