Total Terminals International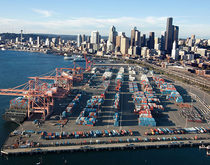 TTI refuses to post security bond with Northwest Seaport Alliance.
Risks surrounding rapid changes in carrier and terminal industries are a source of confusion for ports and shippers.
Container line faces sharp pressure to boost its cashflow.
Total Terminals International last month set what company executives say is a new North American record by working nine cranes against a vessel, completing 2,285 container moves over eight hours. But the Long Beach terminal operator was seeking more than just bragging rights.