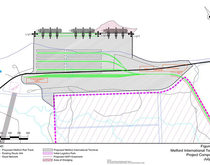 A joint venture will seek customers for a planned eastern version of Prince Rupert.

The largest container terminal in the Northwest Seaport Alliance has stated its position on SOLAS VGM generation.

CMA CGM plans to upgrade a trans-Pacific service to the West Coast by deploying six ships with capacities of 18,000 twenty-foot-equivalent units, starting late May, a bet that container terminals can handle the largest mega-ships to call the U.S. and that volume will steadily grow.

While some terminals are spending hundreds of millions of dollars to automate their operations in high-volume ports such as Los Angeles-Long Beach and New York-New Jersey, SSA Marine spent about $400,000 to install a semi-automated crane assist mechanism for a ship-to-shore crane in Long Beach that is so cost-effective it has application even for lower-volume ports.