Maher Terminals is the largest container terminal in the Port of New York and New Jersey, which is the second-largest container port in the United States and the largest on the U.S. East Coast.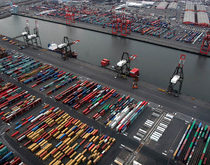 Maher Terminals has been acquired by Macquarie Infrastructure Partners III and a subsidiary of Japanese shipping company NYK Line.
Most terminals at the Port of New York-New Jersey will not extend gate hours in anticipation of cargo backlogs from the New Year holiday, the port authority announced today.