United States Maritime Alliance
United States Maritime Association, or USMX, is an alliance of container carriers, direct employers, and port associations on the U.S. East and Gulf Coasts. In addition to serving as the representative of the management groups in master contract negotiations with labor, USMX, which was founded in 1997, also serves to issue industry positions on a variety of regulatory and safety issues.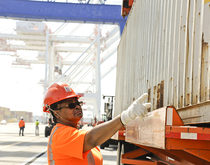 The International Longshoremen's Association and its employers have scheduled "informal meetings on collective bargaining issues."

David Adam, chief negotiator for U.S. East and Gulf Coast waterfront management, challenged employers and the International Longshoremen's Association to consider changes to their bargaining process before their next contract expires in 2018.