Pacific Maritime Association
The Pacific Maritime Association represents employers at ports and container terminals on the U.S. West Coast. It is responsible for negotiating labor contracts with the International Longshore and Warehous Union, which represents longshoremen at West Coast ports. The East Coast counterpart of the PMA is the United States Maritime Alliance, or USMX.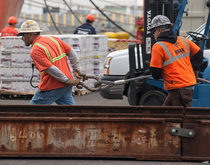 The International Longshore and Warehouse Union will call delegates to San Francisco to consider a vote on early contract talks.