New York Shipping Association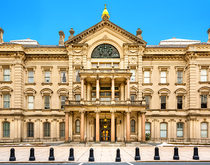 The legislation follows repeated efforts by the International Longshoremen's Association and port businesses to rein in the commission.
Newark, New Jersey, Mayor Ras Baraka has rekindled a long-smoldering controversy over whether the Port of New York and New Jersey's longshore workforce is diverse enough.

The Waterfront Commission of New York Harbor has subpoenaed numerous longshoremen in an effort to identify the organizers and cause of a Jan. 29 wildcat strike that idled the East Coast's busiest port.