Weekly wrap-up for July 12, 2014: Maersk, MSC try again; ILWU, PMA pause, then resume, negotiations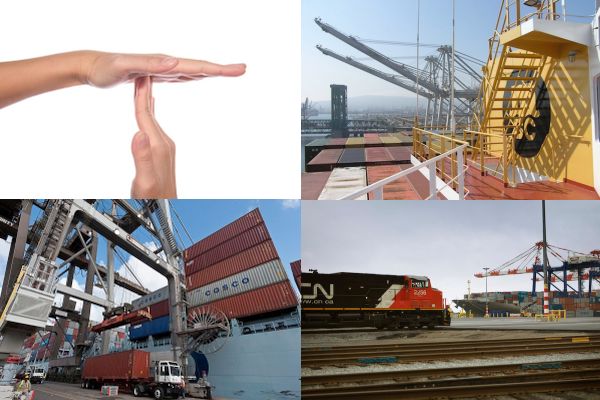 The International Longshore and Warehouse Union and the Pacific Maritime Association surprised watchers by announcing a 72-hour hiatus in their negotiations so that the union could deal with unrelated talks in the Pacific Northwest, and by extending the expired coastwide contract during the suspension of negotiations. Protesters backed by the Teamsters attracted attention and briefly disrupted operations as ILWU members honored the picket lines on Tuesday, but an arbitrator — available because the contract was in force temporarily — ruled the protests were not a "bona fide" picket under the contract's terms and ordered the longshoremen back to work. Late in the week, Maersk Line and Mediterranean Shipping Co., fresh off the rejection of the P3 Network less than a month ago, announced plans for a vessel-sharing agreement involving just those two carriers, dubbed "2M." If it clears regulatory hurdles, the proposed VSA will take effect in early 2015.
Most-read stories of the week
72-hour break briefly reinstates ILWU contract
Arbitrator rules ILWU workers must return to work at LA
Maersk and MSC to attempt new east-west alliance
Cosco to shutter regional US offices
LA-Long Beach back to normal? Time will tell
OOCL fined for death of executive 11 years ago
Teamsters take their case to city of LA — and a shipper
No P3, but mega-ships coming to West Coast anyway
CN imposes cargo allocations at Vancouver, Prince Rupert
Wal-Mart Canada buys trucking company, DC operator
Editor's pick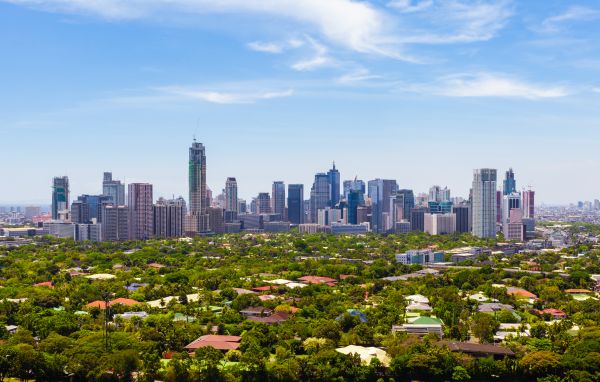 The Philippine government will give vessels that call at the nearby port of Batangas, rather than at Manila, a 90 percent discount on docking fees over weekends from August in a desperate bid to clear the country's chronically clogged terminals. Read more.
Multimedia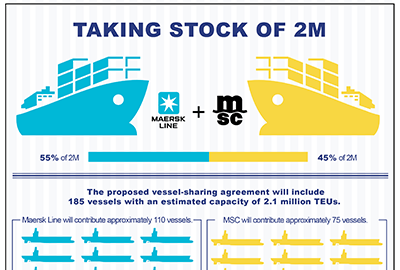 If their proposed 2M vessel-sharing agreement is approved by regulators, Maersk Line and Mediterranean Shipping Co. will deploy 185 vessels with an estimated capacity of 2.1 million TEUs on 21 strings in the Asia-Europe, trans-Pacific and trans-Atlantic trade lanes. The JOC's new infographic takes a look at some aspects of the proposed VSA:
Taking stock of "2M" [Infographic]
From the archives
20 years ago in JOC: Slashing trans-Atlantic capacity was helping Atlantic Container Lines cut its losses; the carrier later reported a profit for the year.
10 years ago in JOC: The Port of Miami struggled to clear a backlog of containers that piled up during a two-week boycott by independent drayage drivers.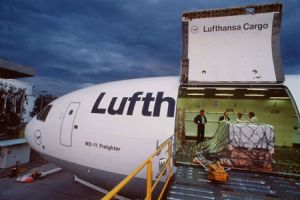 5 years ago in JOC: Lufthansa Cargo's volume dropped in June, as the air freight carrier continued to feel the effects of the global recession. It experienced a similar slump in 2014.
1 year ago in JOC: The Port of Oakland's board of commissioners unanimously approved a lawsuit settlement that cleared the way for SSA Terminals (Oakland) to take over two other terminals and create a larger combined terminal at the port.
What's ahead?
Readers can look forward to continuing coverage of the ongoing ILWU-PMA negotiations, as well as attention to congestion issues plaguing shippers in various locations.
Other stories in the works:
The looming "intermodal season of discontent"
The opening of the rail earnings season
A port performance task force forum for the Port of New York and New Jersey
A closer look at the Top 10 U.S. exporters in 2013
User login