Weekly wrap-up: ILWU ratifies deal with PNW grain handlers, reaches tentative agreement on health benefits with PMA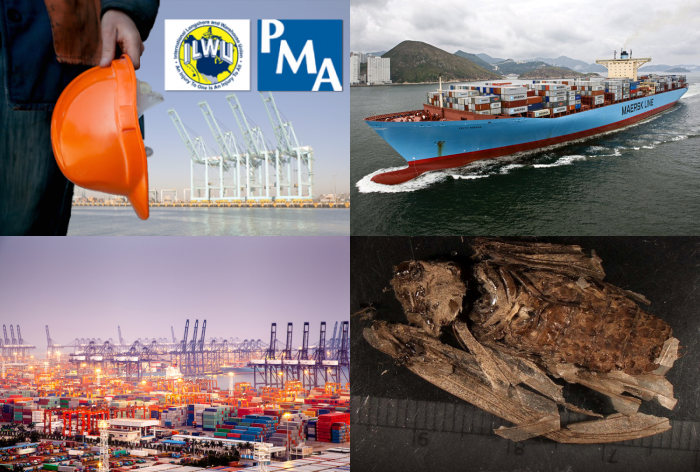 Members of the International Longshore and Warehouse Union ratified a new collective bargaining agreement with grain handlers in the Pacific Northwest, ending a two-year battle between the two parties. And after the grain terminal deal was announced, the ILWU and the Pacific Maritime Association, which represents employers in negotiations with the union on a coastwide container contract, issued a joint statement that the parties had reached a tentative agreement on health benefits. The joint release was but the latest indication that these talks are proceeding much less contentiously than negotiations in 2002 or 2008.
Most-read stories of the week
ILWU, PMA reach tentative agreement on health benefits
ILWU-PMA health benefits agreement another sign of peaceful talks
Retailers warn of rising risks of lack of ILWU contract
Ningbo port strike over as truckers get back to work
Global ports grapple with congestion generated by larger ships and alliances
Fewer blanked sailings possible for China's Golden Week, SeaIntel says
Multiple US-bound ships delayed by Asian Gypsy Moth
Maersk sells US headquarters building for $53.3 million
US trucker coercion rule could impact global supply chains
Big ships could come to US ports under Maersk, MSC alliance
Editor's pick
Two cargo terminals at the Port of Long Beach suspended vessel operations on Wednesday because of storm surges caused by Pacific Hurricane Marie. Cargo-handling operations resumed on Thursday, but damage remains to be repaired. Read more.
Multimedia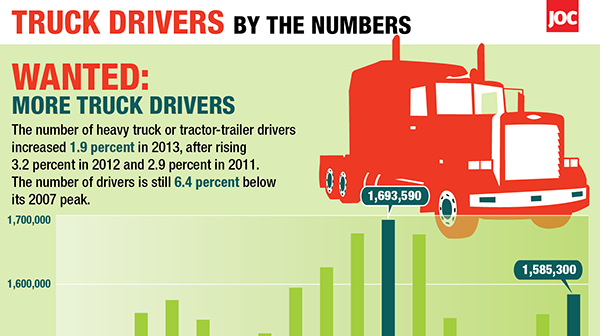 U.S. truckload operators are increasingly willing to pay more to secure the truck drivers needed to deliver trucking capacity to shipper customers. That's important, as a lack of drivers held back growth at some companies in the first half, and a recent survey found that pay was prospective drivers' top concern. This infographic shows how the driver pool has changed and looks at a key reason why there are few new drivers:
From the archives
20 years ago in JOC: Hanjin Shipping Co. announced plans to enter the North Atlantic trade on Jan. 1, 1995, in partnership with existing trans-Atlantic carriers Cho Yang Shipping Co. and DSR Senator Line. Hanjin in 1997 acquired a majority stake in the latter carrier.
10 years ago in JOC: Alitalia was hoping to cut about a third of its work force and move another third into a spinoff company. The perennially troubled air carrier may at last have found a savior in 2014 in the form of Etihad Airways, which in June announced an agreement in principle to acquire a 49 percent stake in the Italian airline.
5 years ago in JOC: Trucking and marine freight carrier Trailer Bridge named Ivy Barton Suter as chief executive officer; she resigned about two years later. Just two days ago, Senior Editor Joseph Bonney reported the latest change in that position at the Jones Act carrier.
1 year ago in JOC: The ILWU said it would appeal a National Labor Relations Board administrative law judge's decision that two reefer-handling jobs at the Port of Portland fell under the jurisdiction of the International Brotherhood of Electrical Workers. The longshoremen's union early this year (2014) got the two jobs under a deal brokered by Oregon Gov. John Kitzhaber, but just this month the port said it was taking the jobs away from the ILWU, citing continued poor productivity.
What's ahead?
Now that a collective bargaining agreement with PNW grain handlers will allow the ILWU to focus on its coastwide negotiations, and with some sort of agreement already reached on health benefits, a speedy conclusion to the talks may prove possible. Find out the latest developments on our ILWU Labor Negotiations page.
Other stories in the works:
Who's up, who's down among top global container ports
Interviews with CEOs of major container lines
Coverage of second-quarter results for UTi Worldwide, 17th-ranked global 3PL in 2013
A review of 2Q performance among publicly owned trucking companies
Mexican auto manufacturing and the U.S. ro-ro market
Contact Harry G. Butler at hbutler@joc.com and follow him on Twitter: @hgbutler.
User login