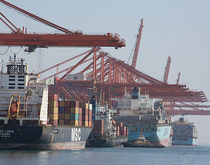 Container traffic at the port of Salalah, operated by APM Terminals, surged in the first half of the year.

Oman's Port of Salalah signed a memorandum of understanding with the Port and Maritime Authority of Iran to cooperate with two Iranian ports.

Mediterranean Shipping Co. rebranded its ISES service between India and Europe as "Himalaya Express" and replaced a call at Salalah, Oman with one at King Abdullah, Saudi Arabia, effective this month.

Salalah, the Oman port operated by APM Terminals, has inaugurated a new deep-sea general cargo and liquid bulk terminal, accelerating the Maersk port unit's diversification from its core container-handling business.