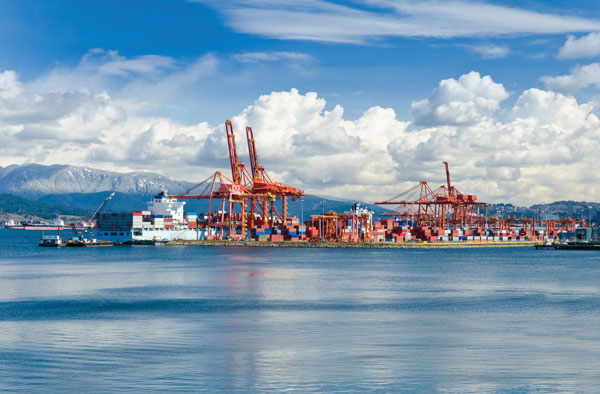 Port Metro Vancouver handles more than 50 percent of all container cargo moving through Canada's busiest container ports, and the British Columbia gateway is investing to retain its No. 1 container port position.
In the midst of more than $700 million in construction on several road and rail projects, Vancouver is working to smooth the flow of traffic to and from its terminals, all part of an effort to get ahead of expected growth in demand.
Port Metro Vancouver last year handled 2.7 million 20-foot-equivalent units of containers, an 8.2 percent increase from 2011. Volume in the first half of 2013 rose 3 percent year-over-year to more than 1.3 million TEUs.
The ports of Montreal, Prince Rupert and Halifax — Canada's other main container ports — handled approximately 2.3 million TEUs combined in 2012. Montreal volume totaled 1.3 million TEUs, down 3.1 per-cent from 2011. In contrast, Prince Rupert's throughput jumped 37.6 percent to 564,828 TEUs. Halifax's total TEU volume edged up 1.4 percent to 416,572 TEUs.
Canada's four largest container ports handled overall import-export cargo, including empties but not domestic shipments, totaling just under 5 million TEUs in 2012, up 7 percent year-over-year.  Throughput in the first half of this year increased  2.5 percent, to 2,478 million TEUs.
Capacity expansion continued at Port Metro Vancouver. The port's main container terminal, TSI Terminal Systems' Deltaport, handles 70 percent of Port Metro Vancouver's container volume. In 2010, Deltaport added a third berth and 50 acres of container storage, adding 600,000 TEUs of annual capacity. Port officials are in the early stages of planning Roberts Bank 2, a new terminal that would have 2.4 million TEUs of annual throughput capacity.
Located 350 miles north of Vancouver, Prince Rupert has been Canada's fastest-growing port in the last decade. Opened in 2007 as a ship-to-rail transfer port, the seaport proved an immediate hit with shippers, with containerized shipments rising by double-digit percentages in each of the last six years.
U.S. Pacific Northwest ports have complained that Prince Rupert's import cargoes benefit from not being covered by the U.S. Harbor Maintenance Tax on the value of shipments destined for U.S. consumption. However, shippers cite the port's efficient ship-to-rail transfer and CN Rail stacktrain service to Chicago and other U.S. points. Prince Rupert says containers can be delivered to Chicago in 100 hours.
Prince Rupert participates with U.S. and Canadian customs agencies in the Beyond the Border project, which allows U.S.-bound imports to be screened and examined by the Canada Border Services Agency on behalf of U.S. Customs and Border Protection.
Volume at the Port of Halifax, Canada's easternmost major container port, jumped 17.4 percent in the first half of 2013. Further growth is anticipated this year following the June start of a G6 Alliance service from Asia via the Suez Canal, using 7,500-TEU ships.
Asia shipments arriving in Halifax via Suez Canal routes have become increasingly important to the port during the last several years. Last year, 48 percent of the port's containerized cargo was to or from Asia, port spokeswoman Michele Peverin said.
CN Rail: vital for Canada - US Midwest movement
More than two-thirds of containers at Halifax move via CN Rail to and from points in Canada and the US Midwest. The port's two container terminals, Halterm and Fairview, have on-dock rail ramps.
Halterm recently completed a $35 million pier extension to allow simultaneous berthing of post-Panamax ships. In August, the terminal took delivery of two super-post-Panamax cranes. After one of the port's two existing post-Panamax cranes is removed, Halterm will have three cranes capable of reaching across ships that are wider than the current Panama Canal locks.
The 7,500-TEU ships in the new G6 service call at Fairview Terminal at the other end of the city. Fairview is inland from two bridges, but neither has been an impediment to the large ships. Peverin said the vessels require 1.5 meters less clearance than the 5,700-TEU ships that had been calling at the terminal.
Nevertheless, the roadway on one of the two bridges will be raised as part of a planned refurbishment of the bridge. The roadway on the other span is expected to be raised during the next decade.
The Port of Montreal's accessibility to large ships has been a good-news, bad-news story. On the plus side, carriers now can serve Montreal with post-Panamax ships of up to 6,000 TEUs following the Canadian Coast Guard's decision in May to authorize the passage of ships up to 145.2 feet wide on the Quebec-Montreal section of the St. Lawrence Seaway. The previous maximum breadth was 106 feet.
The increased maximum breadth offsets the impact of seasonal low water levels in the St. Lawrence, which have reduced the permissible draft of ships and prompted carriers to impose a low-water surcharge. Maximum dockside drafts at Montreal container terminals in August were about 36 feet.
Although the increased breadth of ships allows larger vessels at Montreal, no carriers have sent post-Panamax ships to the port. Many of the larger ships serving Montreal are strengthened to withstand winter ice, and carriers are reluctant to serve the port with ships that can't be operated on the route year-round. The largest ships currently operating at Montreal are the 4,400-TEU ships sailing for Hapag-Lloyd and Orient Overseas Container Line to and from Europe.
Montreal also depends heavily on intermodal rail service, with about half of the port's container volume moving via Canadian National and Canadian Pacific railways. Truck traffic also is important, and during the last several years the port has reconfigured truck routes in and out of the port to smooth the flow of the approximately 1,500 trucks that use the port daily.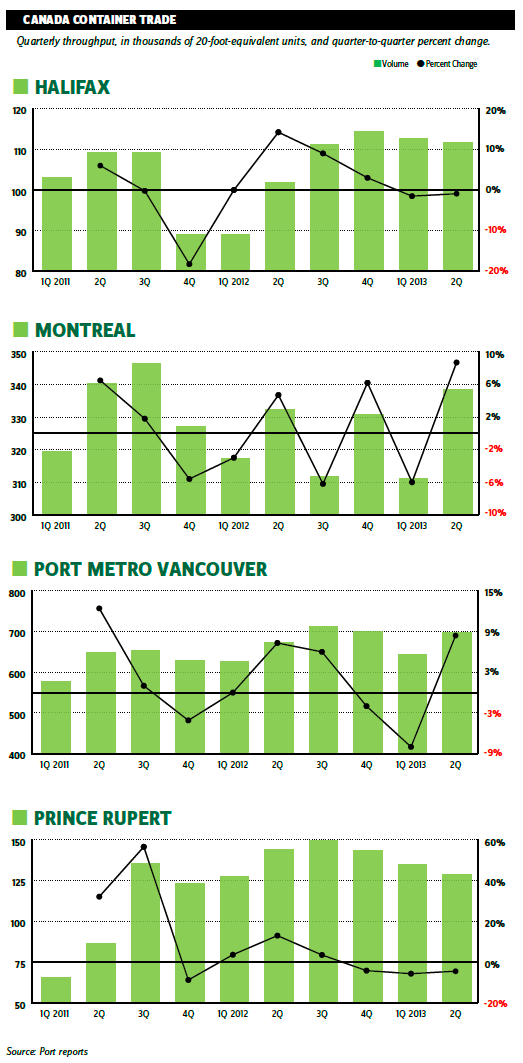 Contact Joseph Bonney at jbonney@joc.com and follow him at twitter.com/JosephBonney.