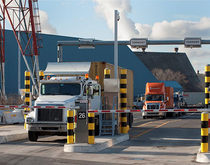 Drayage drivers serving the Port of Montreal can track terminal wait times via a new app.

Like their U.S. counterparts, Canadian exporters know some but not all of the details of how individual container terminals will cope with a new international container weight rule.

Police have made several arrests and recovered roughly a third of the silver valued at $10 million that was stolen in a daring container heist from the Port of Montreal last week, according to reports.

The Port of Montreal is on a roll. Not only is it enjoying strong increases in cargo volumes last year and in the first half of this year, but it is also getting a big investment by the Quebec government to build the infrastructure it needs to handle future growth.