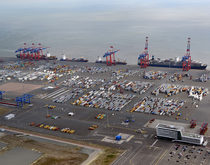 The announcement helps to fill critical gaps in market knowledge about port pairs and services of the new vessel-sharing agreements.

APM Terminals announced Wednesday it will provide container weighing services at 29 locations across its global network to ensure a smooth transition to an international regulation that comes into force on July 1.

The construction of a second container terminal at Wilhelmshaven has been backed by a feasibility study of the growth potential of Germany's only deep-sea port.

Cargo volumes at Germany's new deep-sea container terminal in Wilhelmshaven gained traction this year after a very slow start that forced it to put its workforce on a short-time labor scheme.