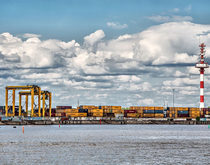 Russian container terminals and exporters didn't experience any disruption tied to the new SOLAS container weight rule.

Far East ports, such Vladivostok and Khabarovsk, will drive Russian container volume growth, as trade between Russia and China grows through greater economic cooperation, according to new government forecast out of Moscow.

Russian has tapped Vladivostok as the country's first "free" port, in an attempt to boost the Russian economy besieged by lower oil prices and sanctions from Western countries.