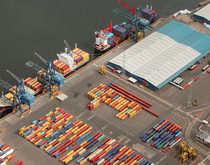 Greenock Ocean Terminal is deepest Scottish container terminal renowned around the world for its exports of Scotch whisky.

The port of Liverpool on Friday officially inaugurated a new deep-sea container terminal as it works to create a new ocean trading gateway to re-jig the national supply chain.

The port of Liverpool will offer container weighing services to help its customers comply with a new international regulation that comes into effect on July 1.

The Port of Liverpool has gained a new service, increasing shippers' access to central and northern U.K., Ireland, Portugal, Morocco, Spain and the Canary Islands.