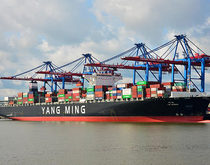 The Port of Hamburg suffered a setback after European Union envoys agreed to extend sanctions on Russia.

The Port of Hamburg handled 6.8 percent fewer containers in the first half of 2015 than a year ago, as sharply lower Russian and Chinese traffic hampered the German port's goal to become the No. 2 container gateway in North Europe.

While politicians wrangle over the Greek debt crisis and economists speculate on the lasting impact to the European and global economy, a decision on who controls a container quay miles away from Athens could reshape European supply chains.