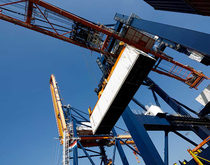 There are no reports of disruption at Europe's three largest container ports Friday as the SOLAS rule took effect.

Port productivity and the ability to handle mega-ships are key drivers for shipping lines in selecting routes and ports of call and German ports must adapt to this new reality if they are to remain competitive.

The Port of Hamburg handled 6.8 percent fewer containers in the first half of 2015 than a year ago, as sharply lower Russian and Chinese traffic hampered the German port's goal to become the No. 2 container gateway in North Europe.