Port of Barcelona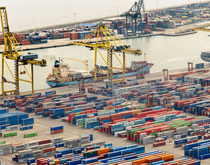 The Port of Barcelona's container volume rose 7 percent year-over-year in the first half of 2014.

BARCELONA, Spain — In the middle of the rolling coastal mountains near this Mediterranean seaport a huge auto plant sprawls. The SEAT plant, which serves as the headquarters of Spain's only domestic automaker, makes four different models, three under SEAT brand names and the Audi Q3, which is part of the family of cars produced by Volkswagen of Germany, which acquired control of the Spanish company in 1986. Most of the plant's production is bound for export markets in Europe, Asia and Latin America.

When a Spanish archer shot a flaming arrow into a cauldron to light the torch at the Olympic stadium in Barcelona, the spectacular feat did more than open the 1992 Olympic Games; it also signaled the transformation of this Mediterranean seaport into a maritime gateway and logistics platform for European trade.