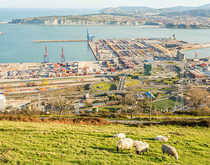 The dockworkers' union has said changing Spain's dock labor system would cost 7,000 to 8,000 jobs.

The unrest has its roots in a European Court of Justice ruling from 2014.

The Port of Barcelona has announced a deal with Hutchison Port Holdings to extend the current 30-year concession HPH holds for operating Barcelona Europe South Terminal by 15 years in exchange for the operator investing $6.5 billion in automation to boost productivity, according to local newspapers.

Spurred by growing container volumes, terminal operator Hutchison Port Holdings' Barcelona subsidiary has expanded the port's hinterland connectivity.