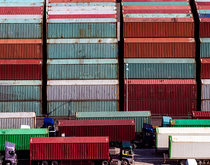 The sold numbers come as other China government data indicates an improved trade and general economic environment.

China's top ports booked a healthy rise in throughput year-over-year in September.

More Chinese ports have followed in the footsteps of the port of Tianjin to restrict the movement of hazardous chemical cargoes at their facilities, disrupting global supply chains and the manufacturers that depend on the inputs.
The Port of Ningbo-Zhoushan's growth spurt is continuing, with year-over-year growth in volume for the first six months of 2015.