Port Klang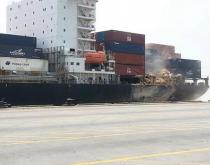 Two container ships at Port Klang, Malaysia, collided, sending containers and debris into the harbor.
Malaysia plans to invest millions of dollars into the transportation infrastructure supporting Port Klang in an effort to boost exports out of the country's main maritime gateway.
Malaysia's port of Tanjung Pelepas (PTP) passed the 8 million 20-foot container mark at the beginning of December, although with less than a month left and volumes slowing down, the 2014 throughput target of 9 million TEUs looks well out of reach.

Flames raged aboard two container ships, one from UASC, another from Hamburg Sud on Monday after the ships collided at Port Klang near Kuala Lumpur.