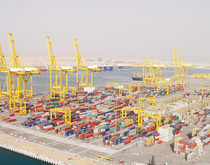 The move spurred by the diplomatic row that effectively cut off supply chains to and from Qatar.

The government of India on Wednesday approved a proposal by the Ministry of Shipping to secure up to $150 million in credit from the Export-Import Bank of India for the modernization and operation of cargo facilities at the port of Chabahar in Iran.

Mumbai-based J.M. Baxi Group is reportedly the final bidder for a public-private-partnership contract to upgrade, operate and maintain existing container terminal infrastructure at the Port of Kandla, a major, state-owned port complex on India's west coast.