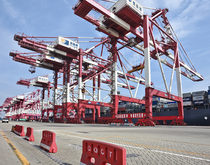 Container throughput at China's top ports stayed positive in May.

Throughput at China's top 20 container ports rose 4 percent in the first 11 months of the year compared to 2014 as most of the mainland terminals continue to grow volumes despite slowing trade putting the brakes on exports.

Total container throughput at China's top 20 ports reached 175 million TEUs in 2014, an increase of 5.3 percent over the previous year as solid exports to the U.S. helped drive up the cargo numbers.

Port traffic out of China in September continued its positive run as a solid recovery in the world's developed economies fueled rising container volumes and steadily improving factory output.