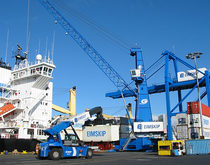 Eimskip says more acquisitions are on the way in 2017.

The North Atlantic, for long the "sleeping dog" of container trades, is "waking up," as rising European imports on the back of a strong U.S. dollar lift freight rates and attract new services, according to Drewry Maritime Research.

Eastbound trans-Pacific liner reliability has improved for the first time this year, but liner reliablity on the opposing direction fell to the lowest point since JOC.com began collecting SeaIntel data in August 2011.
Trans-Atlantic shippers in February experienced the worst service in three years, according to SeaIntel Maritime Analysis.