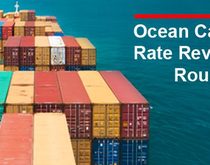 Multiple container lines have planned general rate increases in several trade routes to take effect Aug. 1...

Containerized exports from Far East Asia to all reported regions saw year-over-year growth in May 2013, according to data from Container Trades Statistics Ltd. Exports to Australasia/Oceania, the Indian subcontinent and the Middle East, and Sub-Saharan Africa all experienced double-digit growth. "Global trades have continued to grow in May raising hopes that a sustainable containerized volume recovery could finally drag the industry out of the current downturn," CTS said in a recent release.
APL, ANL and Hanjin Shipping are joining forces to offer a new weekly service covering Asia, Australia and New Zealand.
Pages