A subsidiary of the Italian Grimaldi Group, Finnlines' operations are concentrated in the Baltic and North Seas. The company specializes in roll-on, roll-off shipping. Its services between Helsinki, Finland and Travemünde, Germany operate under the name of HansaLine, FinnLink between Naantali, Finland and Kapellskär, Sweden, NordöLink between Malmö, Sweden and Travemünde, Germany and TransRussiaExpress between Lübeck, Germany and St. Petersburg, Russia.
Finnlines also offers passenger-freight services from Finland to Germany and via the Åland Islands to Sweden, from Sweden to Germany and from Germany to Russia.
The company also has port operations under the name of Finnsteve at the Finnish ports of Helsinki, Turku, and Naantali.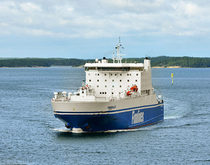 Finnlines posted its best every quarterly result despite sluggish economic growth in Europe.

Finnlines posted its best second-quarter result ever.

Finnlines posted its best second quarter result in a decade as cost cuts offset the impact of a flat Baltic short-sea shipping market.

Finnlines scraped a small profit in the first quarter as it spent heavily on technology to comply with tougher environmental regulations for ships sailing in North European waters.