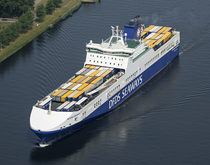 DFDS posted record-high first-quarter earnings as freight traffic soared.

DFDS almost doubled its operating profit in the fourth quarter of 2015 on increased freight volumes on its key north European short-sea routes that helped to deliver a record full year performance.

DFDS's record quarterly profit has highlighted the rebound in northern Europe's short sea shipping traffic and the positive impact of low fuel prices as ships face tougher environmental standards.

LONDON – Eurotunnel, the operator of the subsea rail link between the U.K. and France, has sold its ferry operation to rival carrier DFDS a year after British regulators demanded its withdrawal from the cross-Channel route.