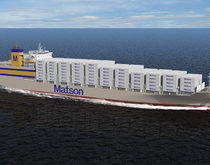 Matson will build two container/roll-on, roll-off ships.

The U.S. Coast Guard has issued a certificate of inspection for the Isla Bella, a liquefied natural gas-fueled container ship that TOTE Maritime had planned as a replacement for the 40-year-old El Faro, which sank Oct. 1 with the loss of its 33-member crew.
TOTE Shipholdings and Saltchuk Resources have secured a $324.6 million Maritime Administration loan guarantee for construction of two container ships that will be fueled by liquefied natural gas.