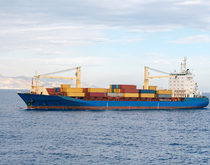 Costamare and Diana Containerships said they would focus on maintaining liquidity in the wake of their second-quarter results.

Diana Containerships' net loss in the first quarter ballooned as a tough market took its toll on the company.

Ship charterer Diana Containerships reported a loss of $9.1 million in the third quarter compared to net income of $1.4 million in the same period last year, as the cost of disposing a ship offset increased time charter revenue.
Diana Containerships, the Greek charter ship-owner, posted increased second-quarter net income of $891,000 against $633,000 a year ago.