Wallenius Wilhelmsen Logistics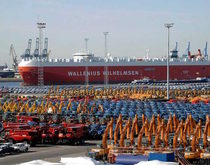 Wallenius Wilhelmsen Logistics reaches settlement with the U.S. Department of Justice, ending an investigation into anti-competitive practices.

Roll-on, roll-off operator Wallenius Wilhelmsen Logistics is best known for its fleet of pure car and truck carriers and has owners with deep shipowning roots, but the company's fastest-growing business is on land.

A class-action complaint filed with the U.S. Federal Maritime Commission seeks damages for alleged shipping act violations by 10 roll-on, roll-off carriers already entangled in criminal and civil price-fixing investigations.

Roll-on, roll-off carrier Wallenius Wilhelmsen Logistics has replaced its existing contract with the Port of Baltimore with a 30-year agreement that commits the company to serve the port through 2025.