SeaLand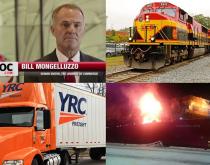 The weekly wrap-up features the Top 10 stories on JOC.com in the past week. Find out what you missed.
With the launch of its SeaLand inter-Americas service approaching on Jan. 1, Maersk has begun transitioning its affected customer base from Maersk to the newly created SeaLand unit.
Maersk Line's revived SeaLand brand will be ready to launch early next year to capture intra-Americas business and grow its market share on the north-south routes, CEO Soren Skou in Copenhagen today.
SeaLand, the newly founded intra-Americas regional carrier of Maersk Group, has announced its executive team.