Orient Overseas Container Line
News and analysis of the Hong-Kong based Orient Overseas Container Line, a Top 20 global container carrier.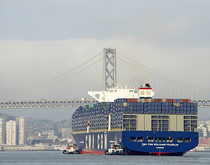 The Ocean Alliance plans to deploy the largest ships ever seen by U.S ports on the trans-Pacific trade.

Container lines in the G6 Alliance have canceled additional sailings on Asia-Europe routes where demand has been slack and rates have plunged to rock-bottom levels.
Two years after being appointed as acting chief financial officer of Orient Overseas International Ltd., the parent company of OOCL, executive director Alan Tung can finally hang the CFO nameplate on the door to his office.
Russian regulators won't levy fines against the five container lines it says colluded on prices in 2012 and 2013 on lanes connecting to Asia until next year.